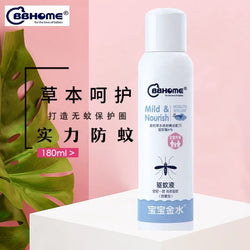 BB Home
BBHOME Mild & Nourish Mosquito Repellent Spray
- Adopt the mild formula of Swiss Alps herbs, add effective mosquito repellent ingredients, gently spray, prevent mosquito bites.
- A variety of plant essences, refined by a unique production process, can prevent skin discomfort caused by mosquito bites and diaper rash
- Repellent : 4%
- Cool and refreshing, keep babies away from mosquito bites in summer
- Non-toxic and safe to use for babies
- Adult use has the same effect, it is good product for home, outdoor, travel
How to use :
Avoid the eye area. Spray directly on the skin or clothing easily bitten by mosquitoes.
Content : 180ml